Boston Accent: Brigitte Martin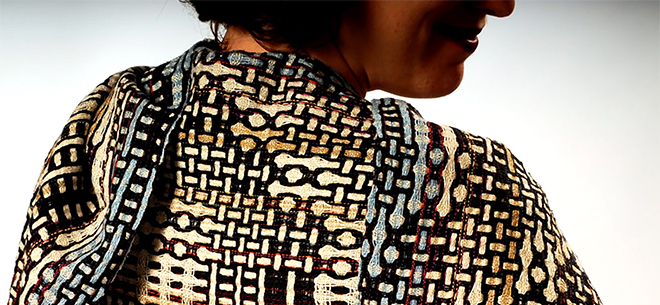 Handweaving by Muffy Young/photo: Daniel De Hainaut
The Society of Arts + Crafts (SA+C) presents CraftBoston Holiday Online 2020 through December 31. The holiday edition of SA+C's popular biannual fine contemporary craft and artistic design sale has previously been an in-person, weekend-long event in Boston. This year, for the first time, the sale has moved to a fully digital and free format. For seven weeks, shoppers worldwide have 24/7 access to the CraftBoston Holiday Online Store, where they can select from hundreds of curated items made by 75 juried craft artists from across New England and the U.S.
CraftBoston Holiday has elevated the holiday shopping experience, offering shoppers online events throughout the seven weeks. Many artists are giving virtual studio visits, live workshops and interactive mix and mingle chats to discuss their work. Buyers everywhere have the opportunity to purchase high quality gifts—from jewelry and ceramics to woodcraft and wearable art—while learning about the artist and the artistry behind the pieces. Among the participating Massachusetts artists are wearable art designer Queen Adeline from Lowell, furniture-maker Duncan Gowdy from Holden and potter Irina Okula of Clay Shards studio in Ipswich.
As art fairs and exhibitions continue to be cancelled due to COVID-19, craft events like CraftBoston Holiday provide a crucial income opportunity for artists during the holiday season. Whether shopping for holiday gifts, or seeking items for your own collection, with CraftBoston Holiday Online 2020, art lovers everywhere can join the SA+C in supporting and celebrating the creativity of craft makers.
Panorama spoke with Brigitte Martin, executive director of SA+C, to discuss CraftBoston Holiday moving online in 2020, and what is in store for attendees.
Tell us how you went about designing this event and the schedule of offerings.
CraftBoston Holiday Online follows the outline of our in-person craft shows. We show a great variety of craft media and associated free events. The good part about having the event currently online is that we can host it for a much longer period, seven weeks instead of three days, and that visitors are not tied to a schedule of events that they may or may not be able to attend. Many of our online workshops, for example, are video-recorded and posted on our YouTube channel for everyone to enjoy when they have time available. I think that's a big plus and from what we have seen so far, people are taking good advantage of it.
How were the artists selected?
Our CraftBoston artists are selected annually by a panel of three jurors who are experts in their craft field and decide whose work is a good fit for our show. Our jurors come from a wide range of craft backgrounds. We always aim to have at least one working artist on the panel, and representation from the curatorial, museum or gallery fields as well. These experts view the artwork via an online jurying app and have access to all the information they need for their decisions.
What have been some of the benefits of moving to an online format this year?
It is fair to say that the two biggest benefits are that it allows artists to participate and show their work for whom it usually is difficult to do so because their artwork is heavy (furniture) or extremely fragile (ceramic and glass sculpture). The other benefit clearly is on the side of the visitor. Travelling to Boston from out of state is often not a possibility for a buyer, so having artwork accessible online and having it shipped directly to someone's home broadens the buyer base immensely. In the first week alone, half of our buyers were out of state, whereas usual attendance at the in-person show is more regional.
What can attendees expect when they log on?
A shop showcasing 75 artists with a variety of work, free mix & mingle cocktail hours (socially distanced via Zoom, of course) as well as videos where artists walk us through their studios. What I like most is the opportunity for every visitor to book an online course in some sort of craft-making. Isn't that a great gift idea this year?
Could you speak to the importance of buying from craft makers?
When you buy from craft makers you are supporting a small business in the most effective way. These are folks who have dedicated their lives to becoming experts in their craft and they bring artwork into the world that has soul, charm and character. I couldn't think of a better way to give a gift, and when you do, you create joy threefold: to the person receiving a very special gift, the maker whose small business you support, and of course yourself, because you just made a really good choice about how to spend your money.
Are there some specific pieces you have been particularly drawn to? Some standouts or favorites?
I really like it all. That's the hard part, everything is my favorite.
The CraftBoston Holiday Online 2020 sale takes place through December 31, 2020. For more information, please visit craftboston.org.