Living Amongst History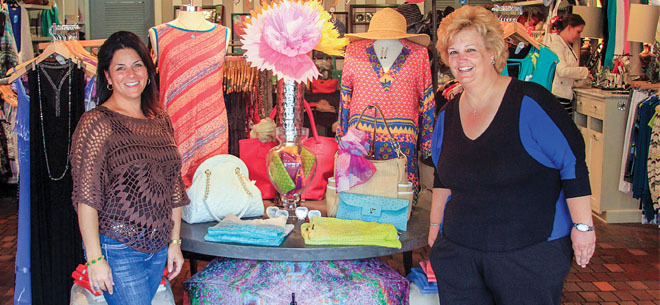 Faneuil Hall Marketplace-- The historic Hub destination consisting of Faneuil Hall, Quincy Market and the North and South Markets—has long been known as a place brimming with activity. Between the dozens of shopping and dining options and roaming street performers, that fact is no more evident than at this time of year. And no one at this renowned downtown destination is perhaps more on the move than Carol Troxell. Along with her business partner Sara Youngelson, Troxell is the co-owner of six shops and eateries here: Sprinkles Ice Cream, Quincy's Place, Kilvert & Forbes Bakeshop, Grasshopper Creamery, Grasshopper Sweets and women's boutique L'Attitude Boston, as well as a seasonal ice cream cart. As if that weren't enough, she also serves as the president of the Faneuil Hall Marketplace Merchant's Association.
"I represent the organization and its members to other organizations, the public and the media," Troxell says of her position as FHMMA president. A retailer at the site since 1986, she finds her role here particularly rewarding. "American history was my favorite subject in school. I was born and raised in a small town in Pennsylvania, and I knew all about Faneuil Hall and its significance long before moving to Boston. Sometimes I stand back in awe of what happened inside these buildings and on the cobblestones." Troxell's favorite part of the marketplace is the rotunda area under the dome of Quincy Market, which she refers to as "the meeting place of Boston."
A site as famous as Faneuil Hall Marketplace has attracted its share of equally famous faces. Tom Brady and his wife Gisele was one of her favorite celebrity sightings, along with plenty of Red Sox players, politicians (including Bill Clinton), comedians and actors. You don't need to be a celebrity to enjoy the area, however. Troxell recommends planning for a whole day here. "We have so many unique shops and pushcarts to experience while you are visiting. And," she continues, "when you are done, take a walk along the Freedom Trail to experience even more of Boston's history."
While Troxell enjoys the past, she is most enthusiastic about the present—with one eye on tomorrow. "The challenge we face today is the competition around the city. What Faneuil Hall has to offer is shopping, dining, entertainment and history. We have it all and I love owning businesses in the place where America's freedom began." With folks like Troxell in charge, the marketplace's future appears to be in good hands.