A Peek at the Past: Old City Hall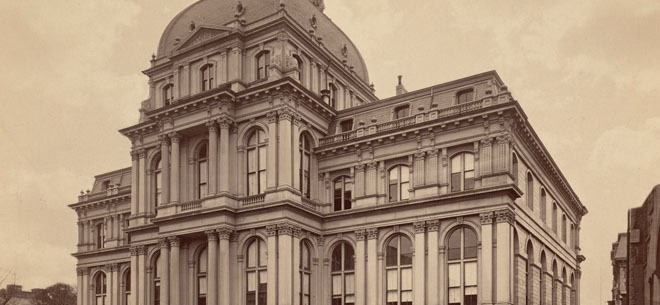 While Boston's current City Hall continues to be controversial due to its perception as a hulking mass of concrete by many critics, Old City Hall, which lies on School Street along the famed Freedom Trail, is undeniably a testament to old Bostonian elegance. Completed in 1865 and built on the site of its two predecessors, Old City Hall hosted more than two dozen mayors—including such legendary leaders as JFK's grandfather, John F. "Honey Fitz" Fitzgerald, as well as the colorful James Michael Curley, who served part of one of his many terms as mayor in federal prison—until the new City Hall was finished in 1969.
Once Old City Hall was no longer the center of city government, there was a debate as to what to do with the 104-year-old, French Second Empire-style granite structure. Previously, old civic buildings that had outlived their usefulness had been torn down due to the cheaper cost of creating a new edifice versus keeping up the old one. A new era in historic preservation, however, was on the horizon. A restoration—championed by then-Mayor Kevin White with help from the developer, the Architectural Heritage Foundation (AHF), a non-profit preservation organization—was completed in 1971. This was a pioneering project not just for Boston, but for the country, and inspired such landmark restorations as the one at nearby Faneuil Hall Marketplace. Old City Hall was designated a National Historic Landmark in 1970 and is currently home to private offices, including those of AHF, and the Boston outpost of the renowned restaurant Ruth's Chris Steak House.
Old City Hall is significant for other reasons. Its courtyard is where the first portrait statue in the U.S.—a bronze of native son Benjamin Franklin—was erected in 1865, and is also where Boston Latin School, the first public school in America, once stood. That spot is an official site on the Freedom Trail, and is marked by a plaque. In fact, an archaeological dig sponsored by the city took place in June right in front of Old City Hall, looking to uncover artifacts related to Boston Latin School, which stood there from the 17th to the early 19th century.
Above Photo: A.H. Folsom, 1865/ Courtesy of Boston Public Library