A Peek at the Past: Boston Center for the Arts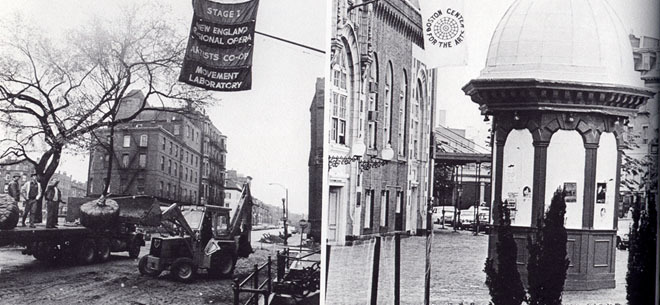 The corner of Tremont and Clarendon streets in the South End has been a nexus of creativity for so long, it's hard to imagine a time when it wasn't. Yet prior to the creation of the Boston Center for the Arts (BCA), this area had a very colorful, and entertaining, history that perhaps served as a template for its current use as a home to visual arts, dance and theater.
The oldest structure at the BCA is the Cyclorama, the circular building at the heart of the complex. Once a freestanding structure, the Cyclorama was built in 1884 to house a panoramic painting and diorama depicting the Battle of Gettysburg. A popular attraction when it first opened, the public tired of it after a few years—even after the original scene was replaced with a representation of Custer's Last Stand—and the building hosted a variety of activities, including roller skating, bicycle riding, boxing matches, roller polo and horseback riding and gun drill shows. The Cyclorama also served as an industrial space and eventually as the home of the Boston Flower Exchange before being incorporated into the BCA.
Speaking of which, the BCA got its start in the late 1960s when city and neighborhood leaders decided to create affordable work and performance spaces for area artists. The Boston Redevelopment Authority purchased the four-acre parcel—including the Cyclorama and other buildings that had cropped up around it over the decades—and designated the BCA as its operator. Debuting in 1970, the BCA originally consisted of the Cyclorama, an art gallery, studio spaces and two small theaters, all of which are still active.
Since then, the BCA has only grown bigger. It now houses the headquarters of the Boston Ballet, as well as two restaurants. In 2004, the BCA expanded with the addition of the Calderwood Pavilion. Created with the help of the Huntington Theatre Company, the Pavilion was built on the site of the National Theatre, an old vaudeville house that was active from 1911–1978. The Calderwood houses two theaters along with rehearsal spaces for Boston's vibrant, home-grown theater community.