Gather settles in to District Hall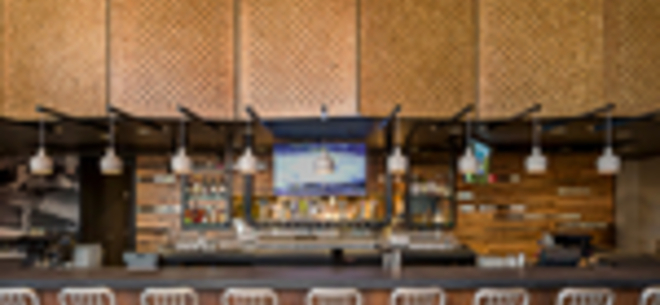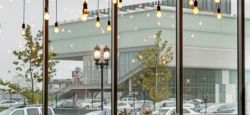 In the heart of Boston's Innovation District you'll find District Hall, a brand-new civic space dedicated to propagating bright new ideas in the city. The modern building is packed with classrooms, assembly space, flexible use pods, a coffee shop, and Gather, a restaurant with an innovative menu that complements its surroundings.
Tucked into a corner of District Hall, Gather manages to feel cozy despite its soaring ceilings and industrial decor. Boston Harbor, visible through a wall of windows, is the focal point during the day, while a massive cluster of hanging bare light bulbs draws the eye at night.
Printed on colorful origami-like paper, the menu is on the small side — but that doesn't make the choosing any easier. The wine list covers all the bases with reds, whites, and sparklings available by the glass or bottle. Beers range from craft brews like the Left Hand Nitro Milk Stout ($9) and Clown Shoes Chocolate Sombrero ($16) to a good ol' PBR pounder in a brown paper bag. If you're craving a cocktail, try the Smash (Bulleit Rye, Lemon, Mint & Domain De Canton Ginger Cognac, $9) and the Monk (Tequila, Chartreuse, Lemon, White Pepper & Honey, $9).
When it came time to decide on dinner, we found ourselves waffling between the Roasted Duck Tacos with apple kimchee, Lamb Osso Bucco, and Quahog Stew before settling on a pizza topped with truffled mashed potatoes, braised oxtail, and smoked gouda. The potato layer was thin enough that it didn't collapse the flatbread, while it gave the pizza an unmistakable truffley kick. The steak frites, dressed with house steak sauce, was packed with flavor and perfectly prepared.
Gather is open for lunch daily, dinner Sunday through Wednesday, and Late Night ('til 1 a.m.) Thursday through Saturday. Stop by and visit at 75 Northern Ave., or look them up at
gatherboston.com
.