A taste of the sea at Row 34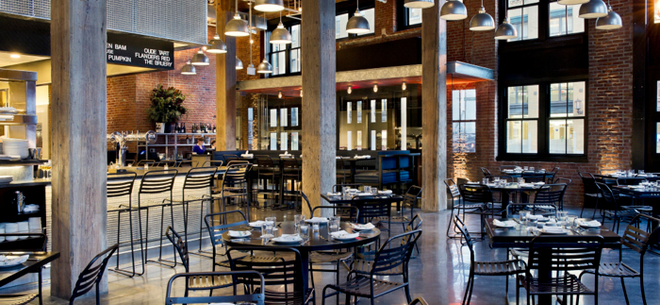 Billed as a "workingman's oyster bar," Row 34 is the newest addition to the trendy Fort Point neighborhood's ever-growing culinary scene. The sister restaurant to Kenmore Square's popular Island Creek Oyster Bar is housed in a historic Congress Street building that, ironically enough, was built on oyster shells at the turn of the 20th century.
The sprawling space feels more high-fashion than blue-collar, with exposed brick walls, a gleaming open kitchen, expansive murals and sleek black tables and chairs.
The menu features small, affordably priced plates perfect for snacking such as shrimp sliders with b&b pickles ($4) and lettuce cups with crispy oysters and picked vegetables ($12). For lunch, try the pumpkin soup with lobster knuckles ($9) or the hand-dug clams ($14). At dinnertime, there's grilled swordfish with crispy Brussels sprouts and bone marrow horseradish butter ($25) and housemade bucatini with steamed clams ($21).
Diners order from the raw bar by way of a sushi-style checklist. Have fun creating your own personalized platter with options like First Light oysters, Littleneck clams, fish head terrine, and snapper ceviche. You won't find any cocktails here, but there's plenty of wine and craft beer to make up for it.
Stop by the restaurant at 383 Congress St. Call 617-553-5900 or find out more at
row34.com
.