Luxuria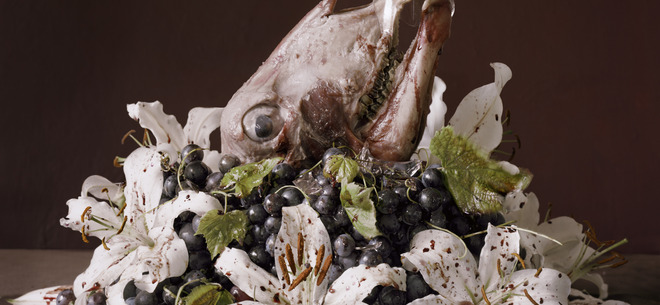 Tara Sellios's exhibition Luxuria at Gallery Kayafas is not for the faint of heart. The collection of watercolors, photographs, and installation cannot be simply viewed, it must be digested, experienced. We've been following Tara since she debuted on the cover of Art New England's November/December 2011 issue. She was also named one of their seven photographers to watch. Four years later and we're still watching.
Since graduating from the Art Institute of Boston in 2010, Sellios has been lauded for her complex and stirring juxtapositions of life and death. Working in large-format photography as well as watercolor, she stages elaborate still lives on the themes of excess and self indulgence, a play on the seven deadly sins. In her artist's statement she says of her work, "Through these images, I aspire to make apparent the restlessness of a life that is knowingly so temporary and vulnerable."
Open until June 26, the exhibit is organized in three sections, a room of watercolors, a room of photographs, and an installation piece.

It's easy to draw a connection between Sellios's striking works and contemporary food culture. "Foodies" everywhere look not only for taste and sustenance in their meals, but for artistry. Presentation is equally as important as substance. These behaviors feel particularly garish when Sellios decorates her meals with the trappings of death, when the bird is marinated in blood and accented with strangled chick heads. Sellios not only points out the link between life and death, but the bestial other side to the world of fine food and wine. Luxuria is not just about beauty, it's about reality. It's an exhibit not for those who wish to be acquiesced, but for those who wish to be illuminated.

Luxuria
Tara Sellios
May 22-June 26
Gallery Kayafas
37 Thayer Street
Boston, MA 02118

Luxuria
Tara Sellios
May 22–July 27
Gallery Kayafas
37 Thayer Street
Boston, MA 02118
- See more at: http://artnewengland.com/?post_type=blogs&p=8420&preview=true#sthash.bhMyoaZG.dpuf
Luxuria
Tara Sellios
May 22–July 27
Gallery Kayafas
37 Thayer Street
Boston, MA 02118
- See more at: http://artnewengland.com/?post_type=blogs&p=8420&preview=true#sthash.bhMyoaZG.dpuf