A Peek at the Past: Brattle Book Shop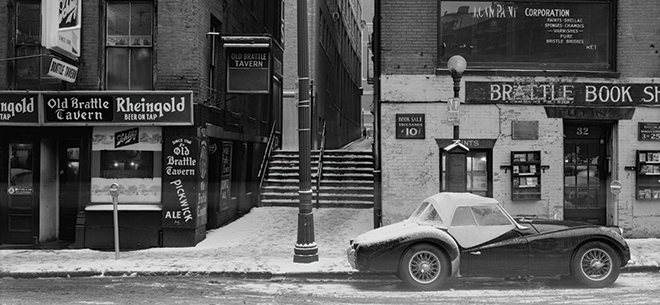 Photo: Cervin Robinson, 1962
Named for a Boston street that no longer exists, the Brattle Book Shop (9 West St., 800-447-9595, brattlebookshop.com) has been selling rare and vintage tomes to the public since 1825. With the Boston International Antiquarian Book Fair in town November 16–18, now is a particularly appropriate time to delve into the origins of this (ahem) storied retailer.
Founded in the publisher- and bookseller-rich Cornhill area as Burnham's before earning its current name following a relocation a block away to Brattle Street in 1962, the country's oldest antiquarian bookseller soon entered a nomadic period when both Brattle Street and Cornhill, along with adjacent Scollay Square, were demolished in the 1960s to make way for City Hall Plaza and Government Center.
The shop didn't stay still for a number of years, moving several times, including from a historic structure at the corner of Washington and Court streets to another location on Washington Street to nearby West Street—although a fire at its original West Street location in 1980 forced a few final moves before the store settled into its current building in 1984. There, proprietor and second-generation owner Kenneth Gloss—his parents purchased the beloved book haven in 1949, and Gloss himself is a renowned expert who has been featured on "Antiques Roadshow" and has appraised books for several local universities as well as the FBI—oversees a three-story inventory of used and hard-to-find books along with maps, prints, postcards and other ephemera.
Besides its voluminous collection boasting hundreds of thousands of items and its upper floor offering valuable books of interest even to the most discerning collector, the Brattle Book Shop features many unique features not found in any other retailer of its kind. The most distinctive quirk is its outdoor lot—the result of the aforementioned fire that burned the original West Street edifice literally to the ground—that houses stalls and carts vending inexpensive volumes year-round, weather permitting. Overlooking this open-air marketplace is a mural containing a collage of black-and-white portraits of such famed authors as Toni Morrison, Franz Kafka, Isaac Asimov, Dr. Seuss and native son Nathaniel Hawthorne. Famous visitors over the years have included elusive author J.D. Salinger.
To check out the ever-changing inventory, head Downtown or drop by the booth at the Hynes Convention Center during the Antiquarian Book Fair.