Boston Accent: Art for Living
Interior designer Craig Tevolitz illuminates his art-focused philosophy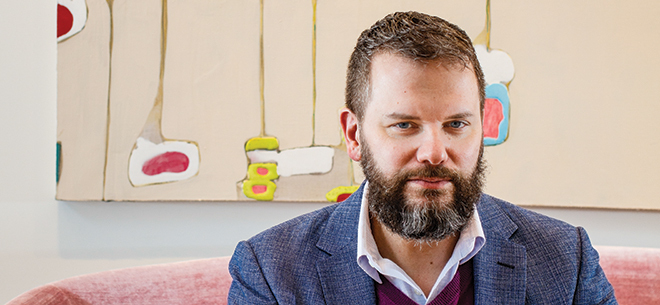 Craig Tevolitz of Platemark Design has a keen understanding of how creative individuals like to feel in their homes. Boasting clients from Harvard Square to Beacon Hill to NYC, Platemark Design specializes in interior designs for art collectors; whereas some designers purchase art to match furniture, Tevolitz lets the artwork itself serve as the inspiration for a room. "Platemark incorporates solutions used by art museums and galleries to help its clients live with their art in the most beautiful way."
Each room Tevolitz designs is uniquely crafted, "an extremely personal reflection of our clients' style." He prefers one-of-a-kind, handcrafted "future heirlooms" to items found in most stores. He explains, "I custom-design furnishings, rugs, etc., for clients' projects and have much of it made in New England. We're lucky to live here with so many quality tradespeople."
Tevolitz collects art for his own home with his husband, who is an art dealer himself. "You could say it was an inevitable endeavor, though I had begun collecting before we knew each other." The couple displays paintings, sculptures, prints and photography, for which they have a particular love.
With each new project, Tevolitz considers clients' lifestyles and life changes in his designs. "In my work designing interiors for art collectors I've noticed the big puzzle for clients is how to live with their art collections. Not only are clients' art collections growing and changing, but their lives may also be changing." For example, a couple might move in together then realize they have different tastes in art, or a client transitions into a bigger or smaller home and isn't sure how to display a collection. It's in these moments where Tevolitz's expertise is most valuable—collectors already know their taste in art, but Tevolitz knows how to tie these pieces into a home.
On Saturday, October 26 at 2 p.m. at the Boston International Fine Art Show (October 24-27), Tevolitz participates in a panel, aptly named "Living With Art," moderated by Joshua Rose, editor of American Fine Art Magazine. Tevolitz and two other outstanding interior designers divulge their strategies for incorporating fine art into living spaces.
The Boston International Fine Art Show is the perfect place to be introduced to Tevolitz and Platemark Design. With over 40 exhibitors, you may find yourself purchasing a piece of art that inspires the next redesign of your home.
Boston International Fine Art Show
October 24–27 at the Boston Center for the Arts' Cyclorama, 539 Tremont St., 617-363-0405, fineartboston.com. $15; Gala Preview: $75 & 250.