High 5: North End Pasta Dishes
Get your carb fix with these five favorites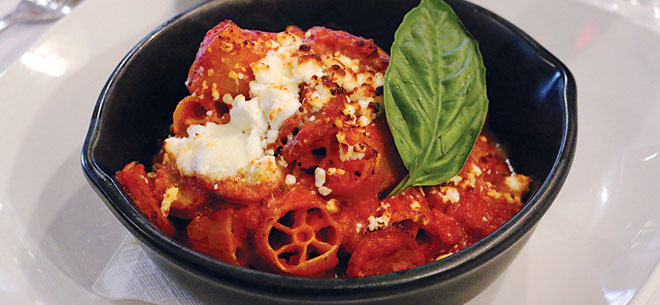 Bombolotti alla Buongustaia
(Cantina Italiana, 346 Hanover St., 617-723-4577, cantinaitaliana.com,
pictured): Homemade wagon wheel-shaped bombolotti is tossed with spicy Italian sausage, fresh basil and marinara sauce, then baked with melted parmigiano and fresh goat cheese on top. It's one of this North End mainstay's signature creations.
Gnocchi al Pomodoro
(Ristorante Fiore, 250 Hanover St., 617-371-1176, ristorantefiore.com): An Italian classic, Fiore's version features pillow-light potato pasta with ricotta in a San Marzano tomato sauce accented with basil.
Fettucini Primavera
(Massimino's Cucina Italiana, 207 Endicott St., 617-523-5959, massiminosboston.com): Jump off the beaten path of Hanover Street and right into spring with Massimino's mix of ribbon pasta and fresh veggies, served either in a tomato cream sauce or, in a slightly healthier variation, with a simple preparation of garlic and oil.
Raviolone Aperto
(Terramia, 98 Salem St., 617-523-3112, terramiaristorante.com): Served in a lobster mascarpone reduction sauce, open-faced ravioli with sea scallops, shrimp and fresh zucchini are the centerpieces of this modern, unconventional take on the typical pasta dish.
Ravioli Con Aragosta
(Trattoria Il Panino, 11 Parmenter St., 617-720-1336, trattoriailpanino.com): Even in the North End, lobster is a local staple. Try it Italian-style in the form of lobster ravioli served in a crab meat sauce—brought to you by North End dining magnate Frank DePasquale.