High 5: Sushi
Japanese delights abound at these standouts for raw fish and more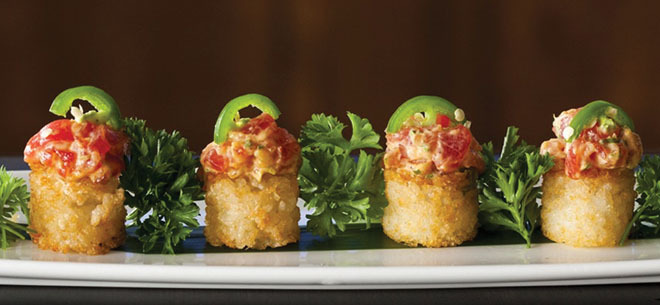 Basho Japanese Brasserie (pictured): You won't find hot dogs and pretzels at this Fenway hangout. What you will find is reasonably priced nigiri and sashimi, as well as creative rolls combining fresh veggies with both raw and cooked seafood. For the baseball fan, check out the Fenway Roll combining asparagus, cucumber and avocado with seared tuna, flying fish roe and wasabi sauce. And as a bonus, there's an outdoor patio.

Douzo: Boasting a sleek, modern decor, this award-winning Back Bay favorite offers sushi on the cutting edge. Try its signature Douzo Roll with tuna, salmon, crab stick and asparagus, or the Boston Roll with lobster, lettuce, tomato, asparagus, flying fish roe and spicy mayo.

Crudo (78 Salem St., 617-367-6500, crudoboston.com): This newcomer in the very Italian North End promises authentic Japanese cuisine from executive chef Kenichi Iwaoka in its bi-level dining room. A mix of the traditional and contemporary rules here, especially in original makimono creations like the Lobster Tsunami (lobster salad with chive and fried leek on top of a lightly grilled rice cake) and the Shogun (salmon, cucumber, avocado and tempura bits topped with seared scallops, Sriracha and shishito pepper).

Oishii (1166 Washington St., 617-482-8868,oishiiboston.com): A South End favorite since 1998, chef Ting Yen's acclaimed eatery brings sushi into the modern era by combining fresh fish—and even Kobe beef—with innovative ingredients including jalapeño peppers, mustard, arugula and pear. The New York Times has hailed this hot spot.

Uni (The Eliot Hotel, 370 Commonwealth Ave.,617-536-7200, unisashimibar.com): James Beard Award-winning chef Ken Oringer has been delighting diners with his high-end sashimi offerings since 2002. Enjoy a rotating selection of the freshest fish from local and international waters, including sea urchin from Maine, fluke from Rhode Island and yellowtail from Japan. Not into raw fish? There's a late-night ramen menu served Friday and Saturday evenings beginning at 11 p.m.