A Peek at the Past: NECCO Sweethearts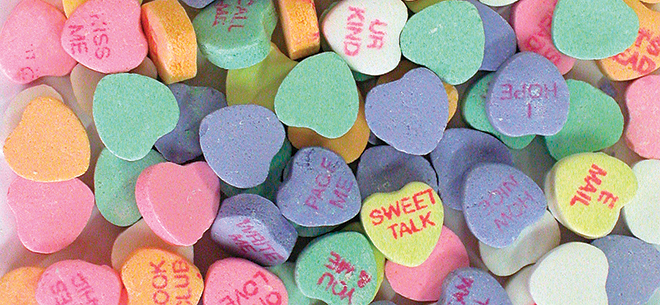 Photo: Scott Roberto
For generations of New Englanders—not to mention candy-lovers worldwide—this Valentine's Day just won't be the same. For the first time in decades, Sweethearts from the New England Confectionery Company (NECCO) will be absent from store shelves. Due to Revere, Mass.-based NECCO's recent bankruptcy and sale of its assets, the iconic, heart-shaped sweets emblazoned with romantic messages may be hard to find in 2019.
The origins of this innovative treat go back to the early days of one of NECCO's precursors, Chase and Company, which was founded in 1847 and was famous for the colorful sugar discs that came to be known as NECCO Wafers. In 1866, Daniel Chase—brother of Chase and Company founder, English immigrant Oliver B. Chase—invented a new method using vegetable dye to print messages on sugar wafers, which were originally larger and came in a variety of shapes. Following Chase and Company's merger with two other Boston-area candy companies in 1901, the newly formed NECCO debuted the chatty, chalky hearts we know today.
Over the years, classic sayings on these seasonal, pastel-colored staples included "Be Mine" and "Kiss Me," although efforts to annually supplement older entreaties with more contemporary phrases—like eliminating "Fax Me" and adding "Text Me," most recently—began in the 1990s. Sometimes referred to as "conversation hearts," these renowned candies have also evolved in one other way: dubbed "motto hearts" initially, they were re-branded "Sweethearts" in 1990 when NECCO acquired the Stark Candy Company, makers of a competing product by that name. Flavors changed as well, with NECCO opting for fruitier tastes (along with brighter colors) in the new century and releasing both chocolate and tart variations.
In what is perhaps a bit of history repeating, NECCO heart candies did actually disappear once previously, going on a manufacturing hiatus in the 1950s and '60s before new management brought them back, stronger than ever, in the 1970s. Despite NECCO's recent dissolution, there is hope for a similar resurrection. Some of the company's brands, including Sweethearts, were sold to Ohio-based Spangler Candy Company—makers of Dum-Dums lollipops, among other confections—this past fall, and they have promised a return of Sweethearts in 2020. Often cited as the best-selling non-chocolate Valentine's Day treat, it's no wonder that fans have been voraciously scooping up back inventory online, insuring some may have them in time for February 14.