Thanks to Tony Fusco, the Ellis Boston Antiques Show is running strong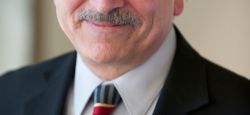 When the Ellis Antiques Show closed its doors in 2008, Boston's antiques community was shocked. Just a year shy of its 50th anniversary, it was one of the longest-running antique shows in the country. Unfortunately, the volunteer-run show couldn't withstand the financial challenges of the recession.
Enter Tony Fusco, an antiques enthusiast and co-founder of Fusco & Four marketing agency. He didn't want to see the Ellis Antiques Show die, so he sprang into action. It took a couple of years to bring it back, but in 2011 the show reopened, and it returns October 24-27 at the Cyclorama (539 Tremont St.).
"We couldn't imagine a world-class city like Boston without an antiques show," Fusco says. "Every major city in the country and smaller cities have an annual antiques show."
The event attracts dealers, buyers, interior decorators and the curious to see antiques from 40 American and European dealers and galleries. Unlike the earlier version of the Ellis show, the current iteration is a bit looser with the term "antique."
"Antique shows used to require that everything in the show was a veritable antique — 100 years old or older," Fusco says. "People really aren't buying and collecting that way anymore, so we don't have a restriction on when the material is produced." While you won't see anything contemporary at the Cyclorama, you will find some art nouveau and mid-century modern pieces right alongside Greek and Roman antiquities.
"The collecting community in Boston is very sophisticated," Fusco says. "We're steeped in history here, and we have a large population of people who are very concerned with historic preservation. … We have such a wealth of history here that it lends itself to people appreciating all sort of aspects of the historical context of the city." Fusco himself is most interested in early 20th century pieces, primarily art deco. He was the facilitator for the International Coalition of Art Deco Societies for six years, and he's written a number of books on collecting art deco and vintage posters.
Besides browsing for art, furniture, ceramics and jewelry, attendees can visit informal dealer booth talks throughout the weekend to learn more about everything from clocks to 18th century lighting. Fusco wants the show to be accessible to everyone—and even occasionally affordable. "I don't want the show to be so expensive that people just have sticker shock and leave," Fusco says. "We try to select some dealers who are more affordable, who have a broader selection of inventory and prices … I want people to come and fall in love with something and feel like they can take it home."