Monkey Business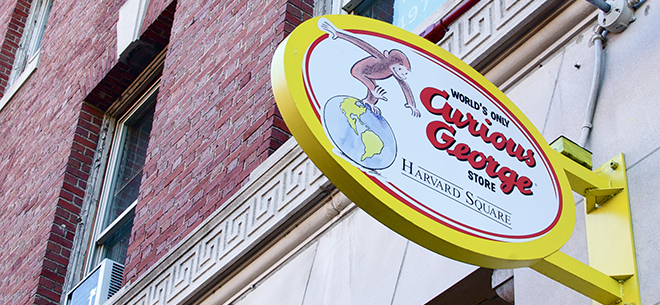 Photo: Lizz Scannell
Curious George has long been a children's literature staple, yet not many know that the sly simian's origins are tied to Harvard Square, the former home of his creators, Margret and H.A. Rey. In fact,
The World's Only Curious George Store
(1 John F. Kennedy St., Cambridge, 617-547-4500,
thecuriousgeorgestore.com
) lies in the heart of Harvard Square as a testament to this legacy. For unfortunate reasons, the store has been in the news in recent weeks due to the fact it is being forced out of its current location in late 2017 as the building's owners plan to redevelop the property. The store's owners are currently searching for a new location, and have even started an online petition to keep this whimsical destination in the square. In the meantime, fans of George's signature brand of lovable mischief can still shop for a wide variety of books, toys, T-shirts and more not far from the place that he once called home.