A Peek at the Past: Jewelers Exchange Building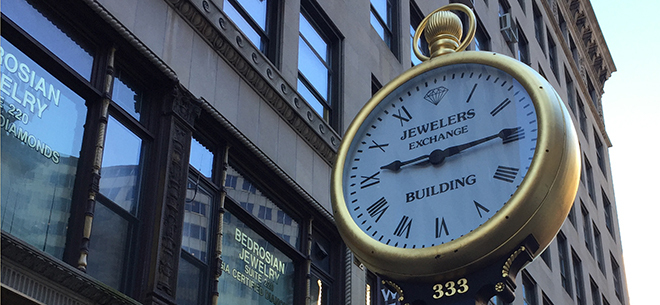 Photo: Scott Roberto
Boston's Downtown Crossing area has long been a shopper's paradise, chock full of both giant department stores and local specialty shops selling everything from books, pens and cameras to antiques, flowers and gourmet cupcakes. One unique shopping destination, however, stands out even amongst all the retail hustle and bustle: The historic Jewelers Exchange Building at 333 Washington Street.
A short-lived hotel when it made its debut in 1922, this eight-story, Art Deco-accented edifice is home to dozens of jewelry dealers, who have lined the hallways of the upper floors since the 1940s. Generations of visitors and Bostonians alike have used the resources of the experts there to do small things, like getting their watches repaired, as well as to make large purchases like engagement rings—sometimes passing down the tradition just as some of the purveyors have passed down their businesses to their children, grandchildren and great-grandchildren. Many of the businesses have owned their stalls for decades, which has contributed to the Jewelers Exchange's amazing longevity.
Today, the structure boasts more than 150 retailers, wholesalers and craftspersons, selling everything from pearls, diamonds and other precious gems to watches, gold, silver and even engraving services. Anyone looking to give a little (or a lot of) bling to anyone on their "nice" list need look no further than this beloved local institution.