10 Top Spots for Sneaker Shopping
Whether a long-distance runner or an aficionado of the latest street kicks, Boston is the perfect place to procure fashionable footwear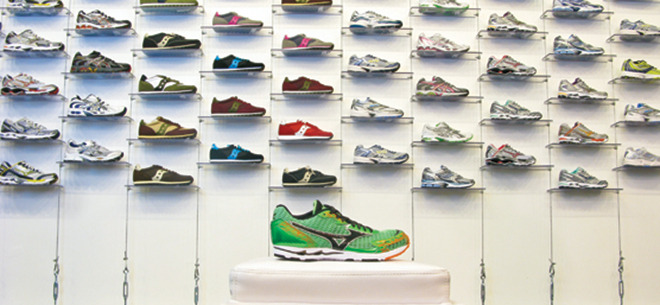 New Balance
The 111-year-old, Brighton, Mass.-based sneaker giant debuted its global flagship store just last year, which boasts a 6,566 square foot showroom, a shoe assembly area and dazzling digital displays, as well as three Shoe Ambassadors and 20 associates to help you find the perfect fit for any athletic endeavor.
Boston Landing, 140 Guest St., Brighton, 857-316-2130, newbalance.com
Bodega
Hidden inside a convenience store near the Christian Science campus, this speakeasy-style sneaker shop sells the latest shoes from Nike, Adidas, Puma and more.
6 Clearway St., shop.bdgastore.com or social media: @bdgastore
Concepts
Head to Harvard Square for skater-inspired fashions from the likes of Vans, Asics, Diadora and Reebok, as well as Concepts' own branded street wear.
The Atrium, 37 Brattle St., Cambridge, 617-491-9696, cncpts.com
Marathon Sports
With 11 shops, including one right at the Boston Marathon finish line, this running specialist has been a local institution since 1975.
671 Boylston St., 617-267-4774; other locations marathonsports.com
Converse
Born in 1908 in Malden, Mass., this brand known for its iconic Chuck Taylor kicks has come full circle in recent years by re-locating its world headquarters to the rapidly expanding Lovejoy Wharf adjacent to the Freedom Trail. A flagship store featuring an area where shoppers can customize their own Chucks and the state-of-the-art Rubber Tracks recording studio inhabit the ground floor of this waterfront complex.
One Lovejoy Wharf, 617-248-9530, converse.com
Sneaker Junkies
Street culture informs the styles at this cutting-edge retailer located on Boston's most prestigious shopping thoroughfare.
268 Newbury St., 617-936-4441, sneakerjunkiesusa.com
Laced
This family-owned skateboard and sneaker emporium regularly hosts in-store appearances by national and underground hip-hop artists.
426 Massachusetts Ave., 617-262-5223, lacedboston.com
AWOL
Short for Addictive Way of Life, AWOL carries sneakers by both established and up-and-coming designers.
190 Harvard Ave., Allston, 617- 787-0600, shopawol.com
Nike Boston
A nexus for the local fitness community, the Back Bay headquarters of this global behemoth is a gathering place for running and training clubs in addition to being a vendor of Nike's in-demand footwear and athletic gear.
200 Newbury St., 617-267-3400, nike.com
Heartbreak Hill Running Company
Named for an infamous hill near the end of the Boston Marathon course, this South End storefront (pictured) offers customized fittings for serious runners and a free run club.
652 Tremont St., 617-391-0897; other locations heartbreakhillrunningcompany.com