A Peek at the Past: New Balance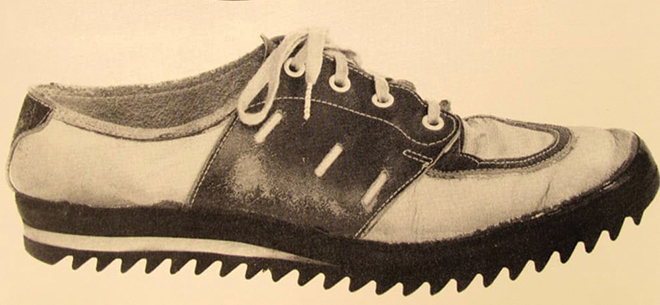 Boston-based New Balance has been a giant in the running world for decades, yet many may be surprised to learn that the 112-year-old company has only been in the sneaker game since the late 1930s, and only became a major player on that scene in the 1970s. Since then, though, New Balance has managed to build a reputation as one of the highest-rated makers of state-of-the-art running shoes on the planet.
Started in 1906 as an arch support manufacturer by English immigrant William J. Riley, the company touted a design inspired by the three-toed chicken foot, which Riley believed created a "new balance." Salesman Arthur Hall built the brand's early cachet by selling the insoles door-to-door to policemen and firefighters in Massachusetts and Rhode Island. The quality of the arches, although expensive for their time, helped the company survive the Great Depression, and set it up for growth in the post-Depression era.
It wasn't until 1938 that New Balance entered the footwear market, crafting a running shoe for a local running club partially made from kangaroo leather. The company eventually branched out into sneakers for baseball, basketball, tennis and boxing, yet it didn't make its first widely recognized product until 1960. That was the year the first-of-its-kind, ribbed-soled "Trackster" (pictured above) debuted. It was widely adopted by local college and high school track teams, who spread its renown through word of mouth. At the time, New Balance also became known for being one of the only makers to offers its shoes in a variety of widths, ensuring a perfect fit for all while also creating inventory challenges for retailers.
A brief downturn began its reversal on Marathon Monday of 1972 when current co-owner and chairman Jim Davis bought the company. Dedicated to making the best running shoes possible, he spearheaded a revival that culminated in 1976 when the acclaimed 320 model—the first New Balance sneaker to feature the familiar "N" logo on its side—was named the top shoe in the world by Runner's World magazine. Its debut coincided with the booming running craze in the U.S., catapulting New Balance to global prominence, which was furthered by the company's entrance into the athletic apparel market in 1978.
To this day, New Balance maintains much of its manufacturing base in New England. Its world headquarters in the Hub's Brighton neighborhood—which debuted in 2015 and is adjacent to its flagship store (140 Guest St., 857-316-2130)—has led to a renaissance for the area, which added the Boston Bruins' Warrior Ice Arena practice rink (90 Guest St., 617-927-7467) in 2016 and the MBTA's Boston Landing commuter rail station in 2017, and is also the future home of the Boston Celtics' training facility and a high-tech track-and-field complex.