Guide to Boston's tree-lighting events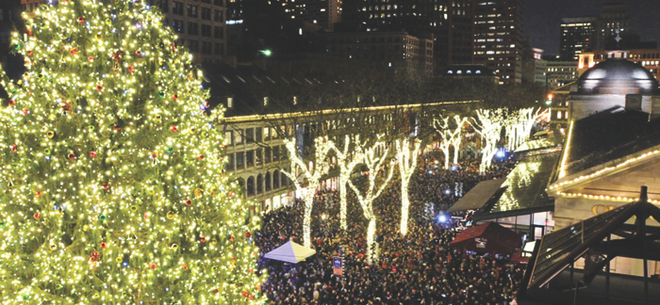 It's not even Thanksgiving yet, but holiday lights are being strung up around Boston, and the city's many tree-lighting ceremonies are poised to begin. Get into the holiday spirit by attending one or more of these special events. Most of the family-friendly ceremonies include live musical performances, special guest appearances, arts and crafts and yummy holiday-inspired treats.

The first tree-lighting event of the year will take place on Newbury Street on Tues. Nov. 19 from 5-6 p.m. Stop by CafeTeria for a special performance by up-and-coming vocalist Shea Rose and appearances by Danny Aiken of the New England Patriots and Miss Massachusetts.
Faneuil Hall (pictured) welcomes their 80-foot tree to town with an all-day party on Sat. Nov. 23 starting at noon. The tallest guest-of-honor in the Northeast will be decorated in over 30,000 lights and strobes. Grammy Award-winner Paula Cole will be on hand to provide entertainment along with a slew of local acts. Part of the ceremony will include a tribute to Mayor Menino. More info
here
.
In the North End, Mayor Menino and Boston Park's Commissioner Antonia Pollak will be in charge of turning on the 50,000 blue lights at Columbus Park's annual lighting of the trellises in the "Wharfiest" park in Boston on Mon. Nov. 25 at 5:30 p.m.
For a slightly more local flavor, Roslindale's tree lighting ceremony will showcase special performances, crafts, free hot chocolate and Santa's arrival in a firetruck at Adams Park on Cummins Highway. What more could you ask for? Sat. Nov. 30, 3 p.m.
On Dec. 2, Copley Square celebrates the holidays with a picturesque tree lighting event. The Old South Church bell will ring when the lights turn on and Fairmont Copley Plaza will host a family reception following the event. 5:30-6:30 p.m.
And last but definitely not least, the official Christmas tree of Boston will be lit on Thurs. Dec. 5 at 6 p.m. Taking place in Boston Common, the ceremony marks the 72nd annual lighting of the official tree, which comes every year as a gift from Nova Scotia for our assistance during the 1917 Halifax explosion. Featuring a performance by the Skating Club of Boston on Frog Pond before the event in addition to everything you'd expect to find at a tree lighting extravaganza.