High Five: Irish Pubs in the Hub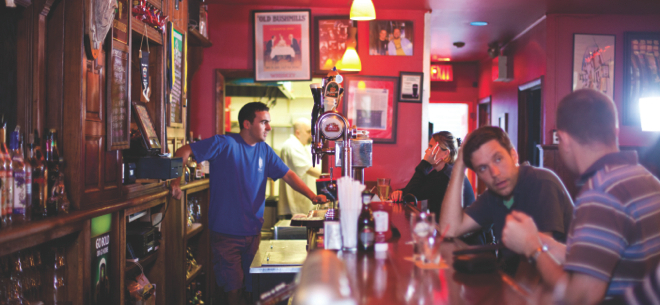 Susan Young Photography
Raise a pint of Guinness to a few of our favorite Irish pubs in the Hub, and be sure to visit one (or all) this St. Patrick's Day weekend for a real celebration.
The Asgard and The Kinsale
. Irish authenticity is the name of the game at these sister pubs located in Cambridge and Boston, respectively. Between the interiors that were designed and built in Ireland, the familial atmosphere — emphasized in Asgard by two giant communal tables — and the rousing live music, a couple drinks in and you'll think you're in Dublin.
Mr. Dooley's
. A downtown Boston favorite for more than 20 years, Mr. Dooley's was the originator of the Somers pubs family that now includes the likes of Green Dragon and Hennessy's. It prizes itself as a relaxed, down-to-earth tavern known for its hospitality, award-winning burgers, and authentic Irish breakfast. It has also become a go-to spot for local musicians during weekend open mic nights.
Druid
(pictured). Voted "Best Irish Bar" by the
Improper Bostonian
in 2011, Druid is Inman Square's authentic Irish hub. With live music ("Irish Sessions") on Tuesdays and Saturdays, Trivia Night on Wednesdays (winner of the 2008 Best of Boston award), and DJ night on Thursdays, there's never a dull moment at Druid.
ShenaniganS
. This pub in South Boston, tucked away in a brick townhouse, offers a uniquely upscale menu — including New York sirloin and Thai chicken and shrimp — while maintaining the relaxed atmosphere of an Irish pub. They also offer outdoor seating for those coveted 50-degree days.
The Black Rose
. Channeling the feel of classic pubs in "the homeland," the Black Rose invites guests to "join in the craic" by raising a pint, enjoying some live music, and indulging in a bowl of hearty Guinness beef stew.