Boston Accent: Chef du Jour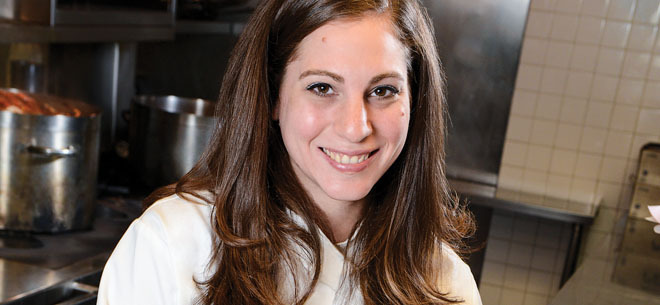 Nicki Hobson's phone begins ringing every morning at 7:30 a.m. It's her fish suppliers. They're calling from boats all over the Boston area, reporting to her which catches are freshest and best for the day's menu. Once she's made her choices she begins mentally planning the menu. "Usually I've been planning it in my sleep," she laughs. "But most days by nine I've ordered the fish and I can make a more concrete list." Her menus change daily based on what ingredients are available. This gives the talented young chef a lot of room for creativity.
As Chef de Cuisine at Island Creek Oyster Bar, Hobson is most proud of the restaurant's farm-to-table, or rather sea-to-table, approach. "I love the simplicity of finding an ingredient and knowing it doesn't need much manipulation to taste great," she says. Fish has always been the main player at Island Creek, though Hobson uses her fresh local ingredients to bring out other flavors in the meal as well.
Hobson has always had a love affair with food. Growing up with a mother and grandmother who both loved French cooking, Hobson began working in the kitchen early on. She received her first cookbook at age 9. Shortly into her college career studying psychology, Hobson realized that she found more joy in the kitchen. After graduating top of her class from the Boston University culinary program, her career catapulted. Following a trip to Florence to study Italian cooking, she returned to Boston to join Island Creek.
According to Hobson, the trick to pulling off a morning-of menu is having strong relationships with your suppliers. If one of them notices that the halibut she ordered isn't up to her standards, he'll call and offer something better. For January, Hobson is pairing seasonal bay scallops with tangy winter citrus.
The vibe of Island Creek Oyster Bar changes dramatically throughout the year. Located in the Fenway neighborhood, much of its summer crowd comes from the baseball field. "During the Red Sox season we have to edit our menu to accommodate the heavy traffic," admits Hobson. Diners want to get in, out and off to the game. During the winter the crowd is more relaxed, and more interested in an extensive dining experience. "In the winter season people want to sit here for two or three hours and enjoy their meal," Hobson observes. Either way, she's been working since 7:30 a.m. to bring them the best fish possible.